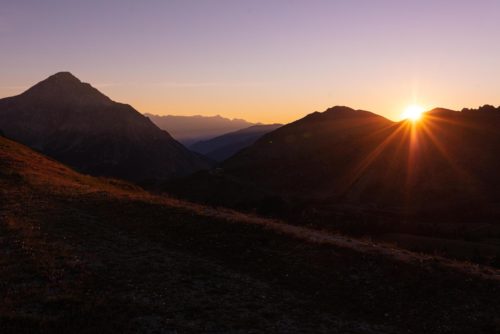 Why I ran away to the mountains, and you should too!
Do you yearn for a more meaningful life? Are you dreaming of a new horizon? Head for the hills. Go to an unfamiliar place and start a fresh adventure.
As a digital nomad, you really can operate with purpose from anywhere in the world. If you are feeling boxed in or feel like there is more to life – well, I can tell you, there really is.

Have you ever wondered what the people behind really authentic, successful ventures do that's different? I believe the secret is to create an environment of change for good, in all aspects of life.
"The world is not limited by IQ. We are all limited by bravery and creativity."
– Astro Teller
Dare to make a radical change – and enjoy the transformative change it brings you. Here's why me and my family made the break from Luton, England to the French Alps, and the difference it has made to our lives.

From Luton to the Alps

I have been venturing back and forth to the Alps since childhood, back in the 90s. Fast forward to 2006, when launching and growing some alpine brands and businesses made it a more regular pattern. My family and I were based in Luton but frequently made the trip to the mountains. Two very different places!
It only really hit home – where our home should be – in 2015.
We took a sabbatical (recommended) and one night, while sitting in a jacuzzi under the stars drinking prosecco (optional but also recommended), we ran out of reasons why we wanted to go back to the UK.

Increasingly our work could be done over video conferencing. We felt a call to a new country. It was time to wake up and smell the Italian roasted coffee – or in this case the fresh mountain air.
The simpler life… less is more!
We now live in the idyllic hamlet of Les Alberts, part of the commune of the village and ski resort of Montgenèvre in the Haute-Alpes on the French/Italian border in southeastern France. Here's what we found.
The pace is definitely slower but you can still get what really matters done. I still occasionally train back to London and the UK to meet with clients, however, like many of us post-Covid, most of my work is done remotely.

Change is a challenge – but it's worth it
There were obstacles and things to adjust to of course. The biggies were post-Brexit challenges of being British in the EU; as well as understanding how a new system works; and, slower than average wifi speeds (but fast enough and speeding up all the time).
This was (still is) challenging for me, more than my family, but it is a pretty cool accomplishment to speak a foreign language, even if it is in fits and starts. It is also beneficial for business and embracing the community. English may be a universal language but stretching yourself in this capacity really does bridge gaps and you are always learning something new. It will be worth the effort!
Travelling and living overseas brings new friends into your life. It is an enriching experience and makes you more socially aware – opening up and considering others' perspectives. Interaction and fitting in will feel easier and you will become more open, adaptable, and more accepting – and less wound up.

Diversify your experiences and strike gold: a better work/life balance
Being surrounded by the Alps is truly a stunning place to live and work – and for our kids to grow up in. Without a doubt, it is healthier for the mind and body. Clean air, fresh cold water that tastes like chilled Evian from the tap! You can get more active – I've lost weight and become healthier since living here. I'm frequently wandering outdoors with our beautiful husky dog Rocky. The natural playground of the great outdoors offers inspiration to the imagination and loads to do. You can indulge in activities like snowboarding, skiing, splitboarding, skateboarding, road biking, mountain biking, swimming in mountain lakes, hiking, climbing – you name it.

I've had the pleasure of welcoming friends and guests who come to visit us here, so they too can enjoy the glory of the Alps – and the gift of being in a new space. Being digital nomads doesn't need to mean we never see each other in person! It can mean that when we do meet it's an even more special and fruitful occasion. The agency I co-founded, Seraph, now has our French studio as one of its offices, opening up our work possibilities.

"Tell me what you eat and I'll tell you what you are'"
– French Proverb
With a new culture comes different foods – and food is so important in French culture. In fact, it has been recognised as an intangible UNESCO cultural heritage. If you embrace it you find further depth and meaning to your journey. And of course, there is nothing quite like pairing your meal with a bottle of the local vin.
Bring me that horizon

So that's a taste of how life changed for us – without a doubt for the better. But where do you want to go? Forget the objections for a moment, where have you always dreamed of working? Where would bring you peace, adventure, the delight of unfamiliarity and wonder? What's holding you back?

We can forget how much our environment shapes us day by day, and how much the new and unknown can open up our world. Comfort can be a dangerous thing – we love all the support it offers but it can hold us back from the challenge and the growth that comes through it. Perhaps you've loved a season in the city or wherever you've been but now is it time to roll the dice and try something new?

Undeniably, it's a privilege to even have these conversations and opportunities. Not everyone can just move their life to a different country, indeed real change is built by those who stay just as much as those who venture out. But smaller changes can be powerful too. Explore an alternative working space, or try living and working in a new area for a bit. Dedicate time to the outdoors, and commit to a challenging hobby. Get creative, at whatever scale you can. Just don't settle for what is because that's how it is.

Make this the year for adventure.



Ben Hodson is the Creative Director of Seraph and lives on the French/Italian border in a town called Montgenèvre with his wife, 3 kids and a large husky called Rocky. Photo Credits: Ben Hodson or Thibaut Blais.